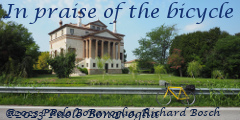 Train+Bike Service in Italy
Treno e Bici
in Germany
-
in Switzerand
.

Gallery

Since the early 90's Trenitalia (formerly Ferrovie dello Stato) has offered the possibility of transporting one's bicycle on many regional and interregional trains and on (unfortunately very few) international trains, a useful aid to be able to use one's bicycle far from home.
Bike transport is possible on those trains that display a bicycle icon on the official Trenitalia time schedule (printed and on line versions) and on the boards displayed in the train stations. Unfortunately some confusion exists, and it is common to find trains in the station, that on the schedule board display a bicycle icon, but that don't actually carry bikes and vice versa. Currently, those trains that are equipped with room for bikes are the following:
The

(*)

MDVC "semipilota" car (

see photo

).

The "semipilota" low-floor car

.

Old AL 668 railroad cars

.

Old ALe 801 railroad cars

.
The ETR-340 Stadler "GTW" and "FLIRT" used by ST – Sistemi Territoriali (Venezia-Adria railway) and other local railways (

see photo

).
ETR-360 Stadler "FLIRT" adopted by Trenitalia for the Veneto region, as of 15 December 2013 (

see photo

).
To take one's bike on the train it is necessary, in addition to the normal, person ticket, to purchase a bicycle supplement which costs 3.50 € and which can be used to carry a bike on any of the trains within 24 hours from validation time (including those tickets that are validated automatically before you start your trip). Bike supplement tickets can even be purchased from automatic ticket machines but not on line. Since February 2005, it has been possible also to transport one's bike by buying an additional normal, person ticket; this option is convenient for short trips; for example from Venice to Mestre a normal ticket costs 1.20 € so that one can carry a bike for 2.40 € altogether, instead of 4.50 €.
What leaves a lot to be desired is the consistency and regularity of service; on some lines, for example: Venezia-Trieste, Venezia-Udine, Venezia-Bologna, Milano-Bologna-Ancona, Firenze-Roma the service is available on almost all regional and interregional trains; on other lines: Milano-Venezia, Torino-Genova-Pisa … the service exists, but is fairly limited and discontinuous; on others, in short, most of the trains on the Bologna-Prato-Firenze line, the bottleneck of the Italian train system, bike service is limited to very few trains during the course of the day.
The problem is that the ability to transport one's bike is tied to the type of train being utilized, and whoever is responsible for scheduling the trains doesn't seem to care too much about bike transport, in the sense of ensuring widespread and regular service. Those trains that can carry bikes are only those that I have listed above, while trains that have no place for bikes include the old TAF, old double-decker trains, and long-distance trains (IC, ES, Frecciarossa, Frecciargento and Frecciabianca).
---
There is all the same an alternative: one is permitted to carry a bicycle on all trains if it is partially disassembled and placed in a bike bag of certain maximum dimensions. [80 X 110 X 40 cm or 31.5 X 43.3 X 15.75 inches. RB] There is an interesting YouTube video showing that it is not that difficult to create one's own bike bag and all in a matter of minutes.
When all is said and done, it is relatively easy to carry one's bike by train on short distances, while for long distances, one really needs to study the timetables (for example, the Deutsche Bahn website) or resign oneself to disassemble and reassemble one's bike.
As a rule the bicyclist is expected to handle loading and unloading of the bike onto the train by himself, which is usually the lead car or at the tail. However, I have personally seen that train personnel are always willing to lend a helping hand in this operation that requires a bit of effort and attention to climb up the steps from the platform into the railroad car. Fortunately, the increasing prevalence of raised platforms is allowing for trains that provide level access (TAF, Vivalto, Minuetto).
Some good news has arrived with the new schedule that went into effect on December 15, 2013; the number of trains that carry bicycles has increased somewhat thanks to the addition of the new Stadler ETR 360 trains which have places for bicycles in all the cars and perhaps now are the best trains to carry bikes because of the ease of getting bikes on the trains, the ease of placing one's bike and for the number of available bike spots. One can only hope that there will be more and more of these trains available.
---
Links

Medie Distanze Vestiboli Centrali - medium distance central vestibule. Semipilota refers to trains that can be piloted either from the locomotive or from an engineer's cabin at the other extreme of the train.
X