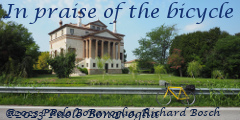 Bahn&Bike [Train and Bike] Service in Germany
Treno+Bici
in Italia
-
In bici sull'Øresundtåg tra Copenhagen e Malmö

Gallery
In Germany train+bike service is called Bahn&Bike and is structured similar to, although not identical to, the Italian model. As in Italy, bikes can be transported on almost all regional trains (the cost in almost all Länder [states] is 3 Euros, and free in Hesse, Thuringia and Hamburg).
Unlike in Italy, transporting of bicycles is possible even on most (about 60%) long distance trains (IC/EC, IR) and on night trains NZ and CNL, but with reservations mandatory. The booking process can be a problem for those coming from other countries (such as Italy) from where it is not possible to reserve a space; on the IC trains the bike compartments very often are full. One should contact the Italian office of DB [German railways] in Milan or Rome. Or one can go directly to the train in the hope that there is availability, and then explain the situation to the conductor...; DB personnel, according to the Bahn&Bike brochure, try to show flexibility to these unusual circumstances, but they cannot guarantee to be able to transport a bike without a reservation.
On the subject of flexibility, the presence of folding seats on one side of the IC bike compartments is interesting; in case there is a large turnout of bikes, they can be fastened to this side, too, otherwise the seats can be used by travelers to sit on.
Tickets for bikes on the IC [Intercity] trains are rather pricey, during 2011 they went up to 9 Euros (in Italy they cost 5 Euros, but they are available for only a few of the Eurocity trains). You can obtain tickets at ticket counters and over the internet, while, and this is a flaw, they are not available from automatic ticket machines at the stations. One negative point in the comparison between Germany and Italy.
Another very useful service of Deutsche Bahn is Fahrrad am Bahnhof (bicycle at the station): in almost all stations you can rent a bike that can then be returned to any other station.
---
To plan a journey by train+bike the best thing is to consult the DB search page, now available in many languages, and allowing you easily to determine connections that offer bike transport between multiple stations.
---
External links

DB Italia the Italian office of the German railways (in Milan); essential to book travel by bike in Germany.
Bahn & Bike train and bike service of DB, the German railway (in many languages).