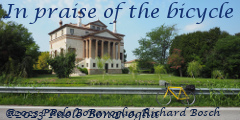 Semipilota MDVC regional passenger train
Galleria fotografica
This (*)semipilota car that provides regional train service dates back to the 80's and is a vehicle that has been surprisingly successful and fortuitous, since it's been in service for over thirty years and is still the most widely used for carrying bicycles. The bicycle compartment is nothing more than the former mobile post office that the post office abandoned shortly afterwards preferring instead to use their own vans.
For many years this car, either as the (*)MDVC or MDVE model, or both, was used in conjunction with locomotive E-464 to form regional trains and high speed regional trains.
Getting a bike onto the train is somewhat difficult; one has to climb up two or three steps depending on whether the station platform has been raised or is still the low type. Once in the vestibule, to get into the bike compartment, one has to go through a self-closing door which is rather inconvenient. The bike compartment usually has a row of hooks on the ceiling from which one needs to hang one's bike; there are also some bike compartments in circulation that don't have hooks, where the cyclist just leans the bike against the wall and must fasten it somehow, using bungee cords or something similar.
In the original version there were six ceiling hooks, in the newly renovated cars there are only three. However in the case of high turnout one can cram as many as 10 to 15 bikes into the compartment, with the only problem being when a cyclist wants to take his bike to get off the train.
In some of the semipilota cars that have been recently renovated the door from the vestibule to the bike compartment has been replaced with "saloon doors" which makes getting through less clumsy.
---
Collegamenti

Semipilota refers to trains that can be piloted either from the locomotive or from an engineer's cabin at the other end of the train.
X
MDVC stands for Medie Distanze Vestiboli Centrali - medium distances, central vestibules: in other words a passenger train used for medium distances with two entry vestibules at the center of the car. MDVE stands for Medie Distanze Vestiboli Estremi - medium distances, extreme vestibules, in other words the vestibules are at the ends of each car, but also used for medium distances. MDVC and MDVE cars are often combined to form a longer train.
X