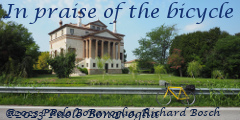 Bicycling in Germany
Austria
-
Switzerland
-
Czech rep.
-
Denmark
-
France
-
Holland

Germany is the most populous nation of the European Union, but not the largest, in other words the population density (and unfortunately also the number of motorized vehicles) is very high (around 200 inhabitants per square km / 518 inhabitants per square mile) and about twice that of France.
The consequence is that the condition of national and local roads is much worse than in France; on the other hand, in the big cities, at least ones like Berlin, Hamburg, Munich, Cologne and Frankfurt, where bike paths abound and where motorized traffic is restricted, you can bike quite comfortably.
Also worthy of note are the auto-frei (car-free) islands: these are in the North Sea and include many of the East Frisian Islands such as Juist, Baltrum, Langeoog, Spiekeroog and Wangerooge, in addition to the better known, and more northern Helgoland.
Outside the cities there exists a broad network of bicycle routes, part of which are on dedicated bike paths, and part on country roads. Alongside the main roads there are narrow bike lanes, but these are often open to mofas (mopeds) and farm vehicles.
The situation is less favorable in East Germany (the former DDR), where bike lanes are less frequent and you often find yourself riding on paved roads that feel more like cobblestones that would put a strain even on a mountain bike.
The best known route is the Donau-Radweg (bike route of the Danube) which runs the entire length of the Danube in Germany from Donaueschingen to Passau, and which continues into Austria and Hungary as far as Budapest (over time, and a bit at a time, I have traveled it all!).
Similar routes exist along the major rivers including the Rhine (Rhein-Radweg). The most spectacular and best maintained are those along the Main (Maintal-Radweg) and along the Altmühl (Altmühltal-Radweg). And since the unification, there is also a bike route along the Elbe (Elbe-Radweg) from Melnik (Czechia) to Hamburg.
References and links

Radweit: connecting cities by bicycle; this site (in German) is really valuable, providing direct bike routes between many cities; it is accompanied by curious multiple maps (each map is divided into several sections that are able to provide on a single page the entire route, for example see Hamburg-Bremen).
Itinerari ciclabile in Germania presented by FIAB [the Italian Federation of Friends of the Bicycle. In Italian. You can practice your Italian here. RB].
ADFC Allgemeiner Deutscher Fahrrad-Club, the German cyclists club.