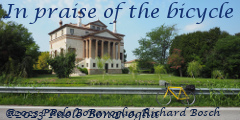 Bicycling in Austria
Austria is in many ways an ideal country for cyclists; the situation is very similar to Germany, and in some ways even better; there's an abundance of dedicated bike paths and other bike routes that follow along small local roads.
The Donauradweg (the bike route of the Danube) is the most well-known and popular of these bike routes, almost all of it on dedicated and paved bike paths and without particularly difficult altimetry.
There is also a bike route along the Drava, the Drauradweg, which is not always paved, and with more ups and downs, but still lacking any particular difficulty. The Austrian stretch runs from the border with Italy (Prato alla Drava) and that of Slovenia; from here the route continues as far as Maribor.
On the other hand, much greater altimetric difficulties can be experienced on other river bike paths such as the Murradweg [bike route of the Mur] in Styria, where you need to be prepared for climbs and descents that are rather steep; the network of bike paths in general is well signed, even in cities such as Vienna and Salzburg.
From the Triveneto one can easily reach the regions along the Austrian border, even by way of day trips, for example from Tarvisio towards Villach, from Tarvisio to Klagenfurt and the Faaker See or from Dobbiaco along the bike route that takes one to Lienz, which is the first segment of the Drauradweg mentioned above.
---
References and links