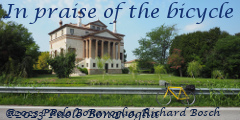 Biking in Switzerland
Gallery
Switzerland is a small and mountainous country, providing a large number of bike routes through the cities.
There exist routes at the national, regional and local levels. Switzerland is the only other country along with Denmark to have a uniform system of identification and signage. The signs are always red background with white lettering, and where appropriate, indicating the number of the respective national or regional route.
In reality there aren't very many true bike paths, those that are closed to motorized traffic; for the most part the routes follow along local roads with low traffic, and along unpaved roads and along bike lanes that one finds on the sides of the Cantonal [regional] roads.
These routes are always marked the same way with a yellow bike symbol and yellow lines on the sides. Obviously these lanes are valid only if they are strictly observed by motorists; during my last trip to Switzerland I observed that this is mostly true in the German part of Switzerland, and less so in the French.
A couple of issues to keep in mind if you wish to travel by bicycle in Switzerland: a) the country is primarily mountainous, climbs are numerous, even where you would not expect them; and b) the country being mountainous, the climate is rather rainy; in particular, be aware that weather statistics indicate that the wettest months are ... July and August.
On these pages I present photo essays of a trip in Switzerland from Basel to Geneva, during August 2010, and another trip in Switzerland and Germany from Basel to Ulm, during August 2011.
---