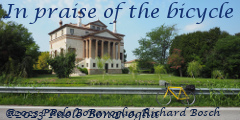 Langeoog Die auto-frei Insel (The car-free island)
Vlieland (NL)

Gallery
The East Frisian Islands are an extension of the West Frisian, which belong to Holland, and on many of them there is a complete ban on automobiles and other motorized vehicles; in particular at Langeoog, a large island more or less the size of the Lido di Venezia (a dozen km/7.5 miles in length) and bounded on the north by an uninterrupted series of dunes beyond which is the beach on the North Sea.
It is an auto-frei insel (car-free island) where there are only bicycles and pedestrians; public transportation is carried out by horse-drawn carriages, freight is transported by small electric vans, the only motorized vehicles on the island, as well as a small train which connects the port with the only town on the island (2,000 residents, although there are many more during the summer with its tourists).
A veritable paradise for the cyclist and the bird-watcher. The cyclist who likes climbs must settle to climb a dune 21 m/70 feet high, the highest peak of the island!
---
How to get there
Langeoog is reachable by a boat that leaves from the port of Bensersiel, which is a district of the city of Esens in the extreme north of East Friesland (northwest of Bremen). Schedules and prices can be obtained from the official website of the island or also directly by following this link: Schedule
Once you have landed on the island you can continue into town by way of a small train (included in the price); the cyclist obviously can proceed on bike; it is only two kilometers/1.2 miles!
---
Latest visit August 19, 2001.
---
Langeoog: official website of the island (in German and English).