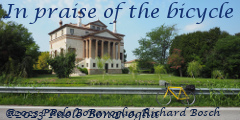 Vlieland the Island of Cyclists
Langeoog

Galleria foto
I've been a bit reluctant to attribute to Vlieland, one of the Frisian Islands to the extreme north of Holland that separate the lagoon of the Wadden Sea from the North Sea, the title of "the island of cyclists". In contrast to the adjacent German Frisian Islands such as Langeoog, on Vlieland, there are motorized vehicles, although limited.
In fact, the ferry that connects the island with the harbor at Harlingen (the Rederij Doeksen company) carries only passengers and bicycles, other than a small tram to carry baggage. In other words tourists who drive can't bring their vehicles along, only their luggage. On the island, on the other hand, one may encounter a bus (number 110), some trucks and vans, a few motorcycles and a certain number of private automobiles, belonging to permanent residents (that number about 1,000, only they are authorized to use motor vehicles).
The fact remains however that at least 90% of travel occurs by bicycle, the main street of the only town (Oost Vlieland) is closed to motorized traffic, and even on the only paved road that runs nearly the full length of the island, one comes across mostly swarms of cyclists, and in front of the restaurant there is a parking lot … but only for bicycles.
Parallel to the road there is also an unpaved bike path that snakes through the dunes, which border the island to the north, with some ups and downs. The western part of the island is a sand moor occupied by a military area and is not accessible to the general public, except by way of an odd-looking bus, the Vliehors Expres (see photo), which is in fact a huge amphibious vehicle with even a place for bicycles; the bus runs on the sand and into the water to reach the landing on the western tip of Vlieland where you can board the ferry to the island of Texel along a long and narrow boardwalk.
So it almost is a paradise for cyclists …
---
Latest visit on August 20-21, 2000.
---
Links
Rederij Doeksen website of the maritime transport company that operates the ferries that connect Harlingen and the neighboring island of Terschelling.
Vliehors Expres officiale site.