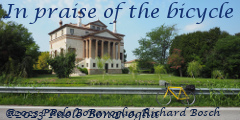 Villa Fulcis at Safforze (BL)
Photo gallery
Map of the villa and surroundings
Belluno, district of Safforze, 395 m/1,300 feet above sea level, Via Safforze 140; train station at Ponte nelle Alpi, 2 km/1.6 miles to the east or at Belluno, 5 km/3 miles to the southwest. The villa is situated along the Calalzo Pieve di Cadore – Belluno bike route.
---
The villa was commissioned by the Fulcis family, one of the richest and most powerful in Belluno, rich from income from their vast agricultural estate, powerful as a result of their military service on behalf of La Serenissima [the nickname for the Venetian Republic. RB]; among the palazzi of Belluno, there are numerous that carry their name. This one in the locality of Safforze is definitely the most imposing and in the most scenic setting because of its mountain backdrop.
There isn't an exact date for the construction of the original villa, but probably dates between the end of the sixteenth and the beginning of the seventeenth centuries; the villa was embellished during the eighteenth century, especially the interior which became more splendid unlike the rather simple exterior. During the Napoleonic era the Fulcis hosted Marshal Andrea Massena and Viceroy Eugenio di Behauharnais. In the middle of the nineteenth century the villa, after the Fulcis family had become extinct, passed initially to the Miari family and then to Count Montalban who hosted King Victor Emmanuel III there in 1903.
The villa endured severe damage during the first world war and later on it fell into a state of abandonment; in 1958, it passed ownership to an ecclesiastical organization, which restored it in an unfortunate manner with the loss of any remaining interior decor and which used it as a summer camp; in 1976 the complex was acquired by the Comune [municipality] of Belluno which has used it as a school and to house cultural associations.
The villa is still in mediocre condition; it can be visited only from the exterior.
---
Latest visit: 2015-08-30
---
Web links
References
Bibliography
Panoramic photo: to see the entire photo, double-click on the image.
X