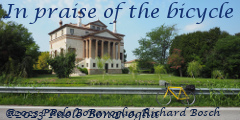 Villa Butta at Belluno (BL)
Photo gallery
Map of the villa and surroundings
Belluno, Via Cusighe, altitude 390 m/1280 feet above sea level; train station at Belluno about 2 km/1.2 miles to the southwest.  The villa is located on the final segment of the Calalzo - Pieve di Cadore - Belluno bike route, truly the final segment, since there are few other bike lanes to be found along the roads around Belluno.
---
The villa, one of the more elegant ones within the province of Belluno, is the work of local architect Valentino Alpago Novello; the date of construction is uncertain, but would have to be placed around the middle of the 18th century.  By 1796 the villa was occupied by one G. B. Butta from a wealthy Belluno family.
The entrance to the villa is off a local street and consists of three cast iron gates held in place by four stone columns.  From the entrance there is a long avenue which takes one to the villa proper which is set back considerably [140 m/460 feet] from the street; the facade, white, is characterized by a portico at the ground level, a piano nobile [main level] with seven windows and a balcony in front of the three middle windows, an upper floor, and a dormer with three windows.
On both sides are the usual barchesse, but of a pale yellow color.
The villa is now private property and cannot be visited.
---
Latest visit: 2017-06-24
---
Web links
References
Bibliography
Panoramic photo: to see the entire photo, double-click on the image.
X