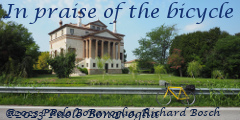 Villa Zeno at Cessalto Donegal (TV)
Photo gallery
Map of the villa and surroundings
Cessalto (TV), 12 m/40 feet above sea level, Via Donegal 85 – 87 near the border with the town of Ceggia (VE); train station at Ceggia 2 km/1.2 miles to the south on the Venezia-Trieste line. By bicycle one can easily reach the villa from the train station at Ceggia by following the Percorso ciclopedonale dei fiumi e dei vini [The bike route of rivers and wines] which is signed with reliable frequency.
The villa was commissioned before 1566, when it was already recorded in the land registry, by the Venetian nobleman Marco Zeno to Andrea Palladio, who lists the project in his Second Book of Architecture. The main body corresponds pretty faithfully to the Palladio design except for the lack on the facade of the three half-moon windows [thermal windows] walled in during the 18th century and replaced with two normal, rectangular windows. Missing also are the three statues on top of the triangular pediment. And above all it lacks the large porticos that would have connected the main house with the barchesse [farm support buildings]. The actual farm buildings are from a later period and have nothing to do with the original Palladio design.
Rather unusual, the most monumental facade is the one that faces the countryside with its three large arches that define a recessed loggia [porch].
The villa, the easternmost of the Palladio villas, is currently privately owned and is not open to visitors. The villa had been in a state of disrepair and abandonment until 2014 when work was begun faithfully to restore the villa; as of March 2015 the exterior of the villa appears to be completely restored, while restoration work for the interior appears still to be underway.
---
Latest visit: 2020-08-15
---
Web links
References
Andrea Palladio

,

I quattro libri dell`Architettura

, D. de' Franceschi, Venezia, 1570. [Villa Zeno p 49]. → eBook

Andrea Palladio

,

The Four Books of Architecture

, Isaac Ware, London, 1738. [Villa Zeno p 49]. → eBook

Gianfranco Scarpari

,

Le ville venete

, Newton Compton, Roma, 2007. [Villa Zeno pp 105-106].

Ottavio Bertotti Scamozzi

,

Le fabbriche e i disegni di Andrea Palladio, tomo III

, Rossi, Vicenza, 1796. [Villa Zeno pp 37-40]. → eBook

Valeria Bovè

,

Ville venete

, Arsenale, Venezia, 1999. [Villa Zeno, detta "Il Donegal" pp 76-77].
Bibliography
Panoramic photo: to see the entire photo, double-click on the image.
X