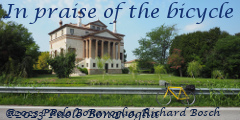 Villa Cellini Giustinian at Portobuffolé (TV)
Photo gallery
Map of the villa and surroundings
Portobuffolè (TV), 25 m/82 feet above sea level, Via Giustiniani 11. Train station at Sacile about 10 km/6 miles to the north. It is situated along the Lungo la Livenza [Along the Livenza] bike route.
---
This monumental villa was constructed in the second half of the seventeenth century a few hundred meters north of the river town of Portobuffolè; the client was the merchant Cellini family but who later managed to be admitted to the Venetian nobility; the name of the architect is unknown. Subsequently the villa passed hands to the Giustinian family from which the current name derives.
The feeling of the villa is one of balance and refinement in the details. Surrounding the villa there is a vast park with sculptures and near the entry there is a chapel oratory dedicated to Saint Theresa with frescoes by Domenico Fabris. Originally, the villa had an entry directly off the Livenza River, but that is now abandoned since the course of the river was diverted and now flows south of Portobuffolè.
In 1988 the villa was acquired by the Berto family who converted it into a luxury hotel and restaurant. Normally only the outside of the villa can be visited.
---
Latest visit: 2014-06-01
---
Web links
References
Valeria Bovè

,

Ville venete

, Arsenale, Venezia, 1999. [Villa Giustinian, Salice pp 88-89].
Bibliography
Panoramic photo: to see the entire photo, double click on the image.
X