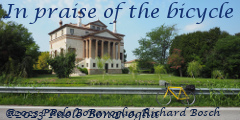 Villa Toderini at Codognè (TV)
Photo gallery
Map of the villa and surroundings
Codognè (TV), 25 m/82 feet above sea level, Via Roma. Train station at Conegliano about 10 km/6 miles to the west. On bicycle it is easily reached from the Lungo la Livenza [Along the Livenza] bike route.
---
This villa was commissioned at the end of the seventeenth century by the Toderini family, who had just entered the Venetian nobility, to the architect Girolamo Frigimelica, who worked on this project at the same time as Villa Pisani at Stra. The appearance of the villa is similar to the early design of Villa Pisani before it was modified by F. M. Preti.
At the beginning of the nineteenth century Ugo Foscolo [an Italian writer, revolutionary and poet] stayed at the villa, dedicating two odes to Maria Toderini upon her entering the convent.
Today the villa has been transformed into a bed and breakfast comprised of a four star hotel and an adjacent agritourism residence.
---
Latest visit: 2015-03-08
---
Web links
References
Bibliography
Panoramic photo: to see the entire photo, double-click on the image.
X