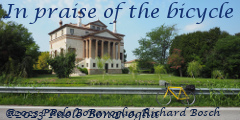 Villa Loredan at Carbonera (TV)
Photo gallery
Map of the villa and surroundings
Vascon, a district of Carbonera, 27 m/90 feet above sea level, Via Valier 28; train station at Lancenigo, 3 km/2 miles to the southwest on the Venezia-Udine line. By bicycle one can also readily reach the villa from the train station at Spresiano, about 8 km/5 miles to the north.
---
The earliest mention of this villa goes back to 1688 when construction was begun through a commission from the Venetian nobleman Giovanni Loredan(*); the villa is comprised of a central block flanked by two porticoed barchesse [farm support buildings] arranged in a perfectly symmetrical composition. The facade has at its center four Ionic columns at the main floor surmounted by a pediment with a hole in its drum; this neo-Palladian motif seems to be, as suggested by Scarpari, an eighteenth century addition, as are the connecting sections between the main block and the two barchesse. Inside there are frescoes attributed to the Venetian Nicolò Bambini.
The overall effect, which is predominantly horizontal, fits well into the flat countryside of the Marca Trevigiana [the March of Treviso, RB]; that, along with its excellent preserved condition, confers on the villa an attractive visual quality and an overall pleasant feeling.
After having been the property of the Loredan family for almost two centuries, towards the end of the nineteenth century the villa changed ownership several times, and then for several decades, from 1867 to 1940, it belonged to the family Valier, a name still used today.
Since 1951 the villa has been the property of the family Perocco di Meduna and is not open to the public. However, the exterior is highly visible from the street (Via Valier).
The Loredan family was one of the great Venetian families, although of new nobility, and produced three doges: Leonardo (1501-1521) the doge who had to fight the League of Cambrai, Pietro (1567-1570) and Francesco (1752-1762).
X
---
Latest visit: 2015-04-05
---
Web links
References
Bibliography
Panoramic photo: to see the entire photo, double-click on the image.
X