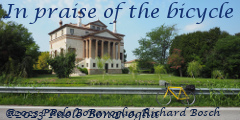 Villa Albrizzi at Preganziol (TV)
Photo gallery
Map of the villa and surroundings
Preganziol (TV), altitude 5 m/16 feet above sea level; train station at Preganziol 2.7 km/1.7 miles to the south. The villa is located on the eastern side of the Terraglio (the ancient road from Venice to Treviso).
---
The villa takes its name from Isabella Teotochi Albrizzi who lived there at the end of the eighteenth century and who hosted a literary salon which earned her the nickname, the Italian Madame Stael. Among her guests were Ippolito Pindemonte, Ugo Foscolo, Lord Byron, and Antonio Canova.
The villa has a classical facade typical of many Venetian villas, surmounted by a pediment with three statues and with balconies at the piano nobile [main floor, the second floor to Americans] and on the second floor [third floor to Americans]. Noteworthy are the landscaped grounds and especially the two (*)barchesse [support structures] that flank the south and north sides of the villa, designed by Andrea Pagnossin.
The villa is not open to the public.
In the Venetian dialect, a barchessa is an all-purpose farm building, housing plows and other farm equipment, storing grain, and stabling animals." from
Palladian Days, Finding a New Life in a Venetian Country
House by Sally Gable. RB
X