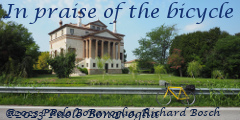 Trento-Borghetto-Peri
Gallery
This stretch of bike route to the south of Trento leads to the borderline with the region of Veneto in the town of Borghetto, where the dedicated part of the bike route ends.
The point of departure is the FS train station at Trento: leaving the station exit to the right and follow the same directions as the Trento-Bolzano route which takes you to the bridge over the Adige and where you will find the bike path. To go to Borghetto, turn left - south. And similarly, you could first visit the historic center of Trento before getting on the bike path.
The route is almost entirely a dedicated bike path; only in the vicinity of Ala is one required to ride a few miles on a local road, but one that is relatively quiet.
This bike route could also be called the "bike route of apples" the route frequently follows through extensive orchards of apple trees that in August-September appear heavy with fruit; the apples from Trentino are perhaps the most prized in Italy. In September, the landscape is marked by the yellow and red of thousands of apple trees ready for harvest. There is no shortage, either, of grape vineyards and even kiwi fruit.
Once outside Trento the bike route tends to stay away from most villages until one comes near the town of Rovereto, where you cross the main piazza, but of the village of Sacco, not Rovereto. After Rovereto the bike route brushes by the village of Ala, and then, finally, reaches the borderline with the Veneto at Borghetto.
Immediately after the border the route continues as a local road: turn right (west) to cross the Autostrada, then you can continue the route on local roads with little traffic; after about 6 km, at Brentino Belluno, a road to the left crosses the Adige and leads to the FS train station at Peri. A less desirable way to reach Peri is to cross the Adige at Borghetto to the left [east] bank and take the strada statale [state road] del Brennero. [This is the route that is shown on Paolo's map. RB]
---
Latest visit: 2007-09-09