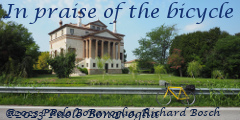 Bicycling in the Trentino-Alto Adige
Bicycling in the Veneto

Mappa del Trentino Alto Adige
Trentino-Alto Adige is the Italian region that undoubtedly is the best equipped in terms of bike paths.
Trentino-Alto Adige is a name that may appear unusually long for a region that is relatively small; in fact this name was applied after the first world war to the region that under the Austrian empire was part of the Tyrol. Trentino coincides with the province of Trento, has a population that is overwhelmingly Italian-speaking and until 1918 had the name Tirolo Italiano [the Italian Tyrol]. Alto-Adige coincides with the province of Bolzano (Bozen), has a population that is mostly German-speaking and in German keeps the name of Süd Tirol (South Tyrol)
The primary bicycle route is the one that runs along the Adige, from Passo Resia [the Resia Pass] to Bolzano, then to Trento and finally to the border with Veneto at Borghetto. There is also a bike path, still incomplete, along the Isarco River from Bolzano to Vipiteno-Sterzing and which continues to the Brenner Pass.
Two other bike paths, each set amid a landscape of great beauty, are: the bike route of the Valsugana, the first segment of the bike route along the Brenta; and, the bike path from Dobbiaco/Toblach to Lienz in the Austrian Tyrol, the first segment of the bike path along the Drava (Drauradweg).
---
References and links