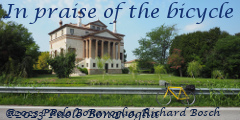 Bike route along the Adige
The Adige is one of the great rivers of Italy; from its source at Passo Resia it touches important cities like Trento and Verona and flows into the Adriatic in Polesine just a bit north of the Po delta.
In the region of Trentino Alto Adige this river is accompanied constantly by a bicycle path that is one of the best there is in Italy: completely paved, on a mostly dedicated bike path, and closed to motorized traffic, with frequent rest areas with park benches and picnic tables, and several places to eat.
Unfortunately, this trail ends at Borghetto, at the boundary with the Veneto region. In this region there is nothing comparable to the Trentino bicycle path, but there are still fairly good cycling routes on secondary roads that are more or less quiet.