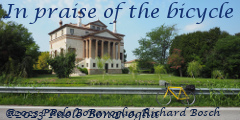 Trento-Bolzano
Gallery
This section of the Adige bike route connects the two main cities of the region of Trentino Alto Adige, Trento and Bolzano. The difference in elevation between the two cities is minimal, about 70 m gain over 70 km [230 feet over 44 miles]; therefore it doesn't make a lot of difference which way you follow the route, one direction or the other. The route described here starts from Trento (and therefore has a very slight climb going towards Bolzano).
The point of departure is the FS train station at Trento: leaving the station exit to the right, then take an immediate right onto Cavalcavia [overpass] San Lorenzo, which takes you over the tracks; cross the Lungoadige and just before the bridge over the Adige is the bike path. To go to Bolzano, turn right.
Alternatively, before you get on the bike path, you could take a quick tour of the city. Crossing the piazzale in front of the train station, dominated by a monument to Dante Alighieri, and heading to the left, you will find yourself at the Castello del Buonconsiglio, which for centuries was the seat of the bishop of Trento, the de facto ruler of the city. After visiting the castello, take a street to the right and you will enter the old town; the traditional center of the city is the Piazza del Duomo, dominated by a beautiful bell tower.
The bike path initially is located on the right side of the Adige (left if coming from the north), then alternately on the left side and then on the right again. It touches the villages of Lavis, S. Michele all`Adige, Salorno (where you enter the province of Bolzano), and Ora.
This stretch of the Adige bike route is characterized by huge apple orchards; in the fall, the red color of the apples ready for harvest dominates the landscape together with the blue of the river and the blue-green of the mountains.
A few miles before Bolzano one leaves the Adige and now finds oneself on the left side of the Isarco River [Eisack in German]; the bike path continues through the developed areas of Bolzano ending at the historic center with Piazza Walther as its center. A few hundred meters further is the train station on the Brennero route.
---
Latest visit on this route: Sep 23 2007
---