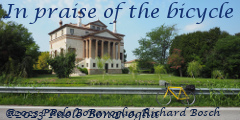 Train and bike in Britain
Train and bike
in Italy
,
in Austria
,
in Switzerland
,
in Germany
,
between Copenhagen and Malmö
.

Gallery
In the United Kingdom there no longer exists a single national rail provider (which used to be British Railways), but, rather, several private companies. I, personally, have traveled only on the Southern Railway (serving connections south of London, particularly to Gatwick Airport and Brighton) and the London Midland (serving connections northwest from London and to Birmingham). There are also high speed trains such as Eurostar or Virgin Trains, which is owned by the same Virgin Group, that operates the low-fare airline.
However, there is National Rail, an agency that coordinates nationwide train service; its regulations for transporting bikes seem to be similar for all train companies: transport is free on all regional trains, but with some restrictions, in particular during rush hours into and out of London (mornings 7:00-10:00 am, for trains into London; afternoons 4:00-7:00 pm, for trains leaving London).
Usually, but not always, the car for bicycles is in the middle of the train indicated by the ubiquitous bike symbol (on Southern trains the door is marked also with red stripes, a really good idea, but which is not followed by the other companies), and there are just two bike spaces. Other companies such as London Midland provide no specific indication for bikes, one should use the car with the wheelchair symbol.
The frequency of trains is really good, one never has to wait long, and keeping on schedule is almost guaranteed; of course, occasional disruption of service is still a possibility.
Conversely, prices are very high compared to Italian standards; a ticket from London to Gatwick Airport, about 40 km/25 miles, costs £15 [$22], compared to the 4€ [$4.50] one pays to get from Venice to Padua, about the same distance. On less popular routes the cost may be a bit less, but always at least double that of Italy.
Unlike in Italy and other European countries, to get through the gates to access the train platforms, tickets are scanned at the gate turnstiles; bikes must go through a wider gate where there usually is an inspector who can help in case of difficulty; tickets are scanned again upon exiting at the arrival station, and occasionally they are even checked on board.
One interesting bit of knowledge, but which I have not yet experienced myself, is that the Virgin high speed trains also provide some spaces for bikes. Whereas, on Eurostar trains, linking London with Paris and Brussels via the Eurotunnel, one cannot bring one's bike onto the train; however it is possible to ship bikes as registered baggage service at the price of 29€ (£25 - $33); it's not clear if the bike would travel on the same train, although it should get to your destination at the same time, but if one was concerned about keeping to a schedule, one could always ship the bike ahead.
---
Links