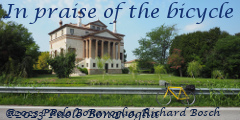 Train + Bike Service in Austria
Train + Bike
in Italy
,
in Switzerland
,
in Germany
,

Gallery
Train and bike service in Austria is very widespread and of high quality. All the trains are operated by the ÖBB (Österreichische Bundesbahnen = Austrian Federal Railways).
In Austria bike transport is provided on most of the regional trains (Regiobiking costs 5 €, valid for the day of issue) and on many Intercity trains (Intercity biking costs 10 €). It is not provided on the Railjet trains, the fastest trains and equivalent to the frecce [arrow trains] of Trenitalia.
The service functions more or less as in Italy, the traveler is required to carry on and carry off one's own bike; bikes are hung vertically from hooks, or placed horizontally along a row of folding seats to which the bike is supported and fastened.
Tickets for bikes can be purchased at the ticket counter, at self-service machines and online in an easy-to-understand manner.
International connections are not that abundant in particular with Italy where there are only these possibilities:
ÖBB trains from Venice to Vienna: two diurnal and one nocturnal; the two diurnal trains have place for bicyles.
Verona-Munich ES trains changing at Innsbruck;
MiCoTra Udine-Villach trains, operated jointly by ÖBB, Ferrovia Udine Cividale, and the Region of Friuli Venezia Giulia.
---
>External links