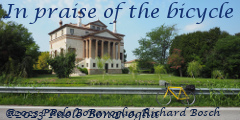 Train + Bike Service in Austria
Train + Bike
in Italy
,
in Switzerland
,
in Germany
,
between Copenhagen and Malmö
.

Gallery
Train and bike service in Austria is very widespread and of high quality. All the trains are operated by the ÖBB (Österreichische Bundesbahnen = Austrian Federal Railways).
In Austria bike transport is provided on most of the regional trains (Regiobiking costs 5 €, valid for the day of issue) and on many Intercity trains (Intercity biking costs 10 €). It is not provided on the Railjet trains, the fastest trains and equivalent to the frecce [arrow trains] of Trenitalia.
The service functions more or less as in Italy, the traveler is required to carry on and carry off one's own bike; bikes are hung vertically from hooks, or placed horizontally along a row of folding seats to which the bike is supported and fastened.
Tickets for bikes can be purchased at the ticket counter, at self-service machines and online in an easy-to-understand manner.
International connections are not that abundant in particular with Italy where there are only two possibilities:
Verona-Munich ES trains with a stop at Innsbruck;
MiCoTra Udine-Villach trains, operated jointly by ÖBB, Ferrovia Udine Cividale, and the Region of Friuli Venezia Giulia.
Unfortunately there is no direct connection to Vienna, which can be reached with one's bicycle only after two or three train changes.
---
External links