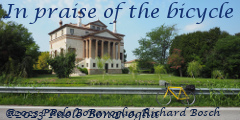 Villa Farsetti at Santa Maria di Sala (VE)
Villa Tiepolo
-
Villa Donà Romanin Jacur
-
Villa Erizzo Belvedere
-
Villa Morosini-25 aprile
-
Villa Soranzo Conestabile

Photo gallery
Map of the villa and surroundings
Santa Maria di Sala 12 m/40 feet above sea level. Train station at Vigonza-Pianiga about 5 km/3 miles to the south. The villa is located on the plain between Venice and Padua on Via Cavin di Sala, along the Miranese-Brenta bike route.
---
This eighteenth century villa has an appearance that is reminiscent of a French design and very little of the Venetian Palladian prototype.
The villa is located adjacent to the small village of Santa Maria di Sala, which is located at the center of the graticolato romano, the grid of orthogonal roads which crossed the plain between Venice, Padua and the Alps.
The client who commissioned the villa, and who was its first owner during the eighteenth century, was the Venetian abbot Filippo Farsetti (1703 – 1774), who originally was from Tuscany, a lover of Classical antiquity and botany, and who wanted to have a large formal garden and botanical garden upon arrival to the villa.
For the construction of Villa Farsetti he commissioned Sienese architect Paolo Posi; since he wished to have something that recalled Roman antiquity he managed to obtain through Pope Clement XIII (Carlo Rezzonico, a Venetian] a set of forty columns carved in Greece and taken from the Tempio della Dea Concordia [Temple of the Goddess Concordia] of Rome, columns which were inserted at the ground level. The piano nobile [main living level] is an extension of the ground floor, while the top floor is confined to the central part of the villa.
In front of the villa there was a large formal garden, and behind it the botanical garden, which at the death of the abbot was abandoned and fell into ruin.
Today the villa is the property of the town of Santa Maria di Sala and houses the town library and municipal offices and hosts cultural events and exhibits. Entrance to the garden is free.
---
Latest visit: 2012-09-08
---
Web links
References
Bibliography
Panoramic photo: to see the entire photo, double click on the image.
X