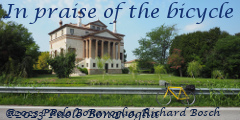 Villa Soranzo Conestabile at Scorzè (VE)
Villa Priuli della Nave
-
Villa Donà Romanin Jacur
-
Villa Marcello
-
Barchesse di villa Badoer
-
Villa Tiepolo

Photo gallery
Map of the villa and surroundings
Scorzè, altitude 15 m/50 feet above sea level. Train station at Noale, about 2 km/1.2 miles south on the Venezia-Bassano line. The villa is located in the center of Scorzè at Via Roma 1, which is easily reached from the bike lane along Via Castellana, and which, today is home to a three-star hotel.
---
Via Castellana connects Venezia-Mestre with Castelfranco Veneto and for the most part is flanked by a bike lane; also along this route one can find many Venetian villas, the most noteworthy being Villa Cornaro at Piombino Dese.
This Villa Soranzo, not to be confused with the villa of the same name at Fiesso d'Artico, is located in the center of the village of Scorzè, important nowadays primarily for being home of the San Benedetto water bottling plant, one of the largest Italian and European companies in the field of mineral water and various types of soft drinks.
The villa seems to have somewhat obscure origins: it was constructed during the 17th century, but on top of an earlier structure; during the 18th century the Venetian Soranzo family, descendents of the doge Giovanni Soranzo (ruled 1312 – 1328), had it rebuilt by the architect Andrea Zorzi, in a style that was prevalent in the 18th century, for example with a triangular pediment surmounted by statuary and smaller pediments over the windows.
In front of the villa there is a beautiful fountain with a statue of a woman at its center. Inside there were frescoes by the school of Paolo Veronese, of which now there remain only fragments on the main floor. Behind the villa is a large park of approximately 2 hectares/5 acres.
The villa passed ownership to the Mocenigo Soranzo family and then to the Conestabile [or sometimes Connestabile] della Staffa family into the 20th century. From 1963 on it has been used as a hotel.
---
Latest visit: 2012-04-28
---
Web links
References
Bibliography
Panoramic photo: to see the entire photo, double-click on the image.
X