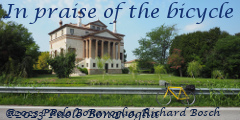 Villa Erizzo Belvedere at Mirano (VE)
Photo gallery
Map of the villa and surroundings
Mirano, altitude 15 m/50 feet above sea level. Train station at Mira/Mirano about 4 km/2.5 miles to the south on the Venezia-Padova line. From the station at Mirano one can follow the road along the left bank [east side] of the Canale di Taglio, which is very tranquil and has sections dedicated to cyclists and pedestrians. The villa is situated at the center of the town within the public park called "Villa Belvedere" and with its entrance off Via Belvedere. This villa is along the Miranese-Brenta route.
---
This villa is noteworthy primarily for the surrounding park, which in 2010, was cited among the 10 most beautiful parks in Italy. At present, the park is the property of the city of Mirano and is joined to the adjacent Villa Morosini-XXV Aprile. Both the park and the villa took their names from the nineteenth century Belvedere tower, which is in a neo-Gothic style, set on top of a small hill in front of the villa.
The villa was constructed during the seventeenth century on behalf of the Venetian Erizzo family nearby the small lakes formed by the Musone torrent, where several mills operated. The building has a simple and sober demeanor with a ground floor and two living floors above. The only distinctive element is the balcony at the piano nobile [the main living level] with three windows carved from Istrian stone.
A colonnade connects the villa with the barchessa [farm support building] which nowadays houses the theater of the city of Mirano. A footbridge behind the barchessa connects the two parts of the park and allows one to reach Villa Morosini-XXV Aprile.
At present, the park is owned by the city of Mirano which uses the villa for the local police offices, in addition to the already mentioned theater in the barchessa. The park is open to the public.
---
Latest visit: 2021-04-24
---
Web links
References
Bibliography
Panoramic photo: to see the entire photo, double-click on the image.
X