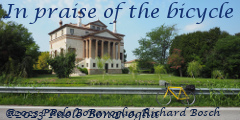 Villa Pisani at Montagnana p.ta Padova (PD)
Photo gallery
Map of the villa and surroundings
Montagnana (Padova) Via Borgo Eniano at Circonvallazione Esterna Est; train station at Montagnana, on the Mantova-Monselice line, 700 m/1/2 mile to the southwest. By bicycle it is reachable from the end of the Vicenza bike route, or alternatively from the Monselice and Este route.
Montagnana, located in the Padua lowlands, between the Euganean and Berici Hills, is famous above all for its imposing city walls, which are some of the best preserved in Italy and all of Europe.
By contrast, at risk of going unnoticed, inserted as it is among other buildings and palazzi in front of Porta Padova, is Villa Pisani, built between 1552 and 1555, based on a design of Andrea Palladio, on behalf of the Venetian patron and patrician Francesco Pisani, and decorated with sculptures by Alessandro Vittoria.
Villa Pisani in effect resembles a palazzo more than a villa, due to its location in an urban setting and the lack of any agricultural lands. There is a garden only on the north side, with a facade with a double loggia similar to its near-contemporary, Villa Cornaro at Piombino Dese, a facade all in all more significant than the one that faces the street.
The villa currently is privately owned and is not open to the public unless prior arrangements are made with the owners.
---
Latest visit: 2018-05-06
---
Web links
References
Andrea Palladio

,

I quattro libri dell`Architettura

, D. de' Franceschi, Venezia, 1570. [Villa Pisani p 52]. → eBook

Andrea Palladio

,

The Four Books of Architecture

, Isaac Ware, London, 1738. [Villa Pisani p 49]. → eBook

Gianfranco Scarpari

,

Le ville venete

, Newton Compton, Roma, 2007. [Villa Pisani p 185].

Ottavio Bertotti Scamozzi

,

Le fabbriche e i disegni di Andrea Palladio, tomo II

, Rossi, Vicenza, 1796. [Villa Pisani pp 20-27]. → eBook
Bibliography
Panoramic photo: to see the entire photo, double-click on the image.
X