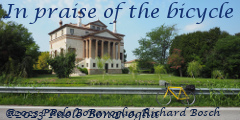 Villa Contarini degli Armeni at Asolo (TV)
Photo gallery
Map of the villa and surroundings
Asolo, province of Treviso, Via Fosse, altitude 210 m/690 feet above sea level; train station at Bassano del Grappa about 15 km/9 miles to the west. The villa sits on Colle Messano [Messano hill] adjacent to the street that climbs up to Asolo.
---
This villa was constructed during the sixteenth century by the noble Venetian Contarini family. It is comprised of the much larger main villa and a much smaller villino called Il Fresco [the fresh] because by facing northerly it is always particularly cool. The two structures are connected by a tunnel which runs below the crest of the hill. Il Fresco is the better known of the two structures because it is more visible and more picturesque.
The villa acquired the name degli Armeni [of the Armenians] because after having been passed on to various noble Venetian families, such as the Bragadin and Soranzo families, in 1895 it was sold to the fraternal order of the Mechitarists, which was established by the Armenian Abbot Mechitar, and who are best known for the island in the Lagoon of Venice, also their property and known as Isola degli Armeni [island of the Armenians].
Today, the villa is a private residence, which is not visitable and can be viewed only from outside.
---
Latest visit: 2016-08-27
---
Web links
References
Gianfranco Scarpari

,

Le ville venete

, Newton Compton, Roma, 2007. [Villa degli Armeni pp 130-131].
Bibliography
Panoramic photo: to see the entire photo, double-click on the image.
X