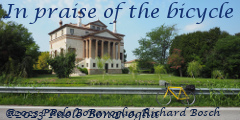 Ciclopista del Brenta: The Valsugana Valley (North)
Pergine Valsugana-Primolano 55 km


Gallery
This section of bike route that follows the Valsugana Valley is certainly one of the most beautiful and spectacular bike paths that follow rivers, to be found in Italy.
The bike route is intended to connect Venice to Trento; in reality the sections that are on dedicated bike paths are relatively few and the route runs mostly on secondary roads, in most places with very low traffic; there are other sections that are anything but peaceful for the cyclist, especially along the first stretch between Venice and Padua.
The route described on this page runs in the Valsugana Valley between Pergine Valsugana and Primolano del Grappa.
The starting point for this section is the train station at Pergine Valsugana, but you could also start from the stations at Calceranica, Caldonazzo or Levico Terme. Upon leaving the Pergine station, one takes the road for Lago [Lake] Caldonazzo; once at the lake, take the underpass below the tracks and follow the new bike path along the lake shore all the way to Caldonazzo. From the Lido take the road towards Levico, but just before reaching the state highway turn left onto a local road by which we reach the Brenta River and the beginning of the bike path.
The bike path runs along the Brenta, switching every now and then from the right bank to the left and vice versa. Before arriving at Borgo Valsugana there is a detour onto a local road, with a few climbs and descents, that takes one through the woods. Then one returns to the bike path that leads directly into the center of Borgo, which is worth a brief stop, and then back along the Brenta. The route is well-marked with signs and markings on the pavement.
After Borgo the route continues in part on the dedicated bike path along the Brenta, in part on local streets; just before you come to Primolano you will be directed on to a local road that runs by a quarry and then arrives at a large intersection where several roads converge. Here we have two options:
Take the road to the right going uphill and then immediately turn left on a descent that leads back to the bike path to Enego. The route then continues on a local road all the way to Bassano del Grappa.
Take the overpass on the left and arrive at the village and station of Primolano on the Trento-Bassano line.