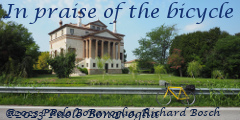 The lagoon north of Venice
Through the barene [shoals] as far as Lio Piccolo

Gallery
Point of departure is the ACTV passenger terminal at Punta Sabbioni which is reachable by ACTV ferry, line LN (which carries bikes) from Venice or from the Venice Lido.
From Punta Sabbioni take the road to the left which follows along the lagoon thereby avoiding Via Fausta which is very busy with traffic and dangerous for the cyclist.
After a couple of km/about 1.2 miles a side-road to the right takes one to a panoramic viewpoint overlooking the lagoon and the islands of Burano and Torcello. Continue for another couple of km/about 1.2 miles to the bridge at Treporti; from here it is possible to take a side trip to Lio Piccolo.
Continue along the lagoon which here is characterized by barene [marshy shoals] which cover the area like leopard spots. Eventually you reach the village of Cavallino where you reach Via Fausta, onto which you are forced for a couple of km/about 1.2 miles in order to reach the bridge over the old course of the Piave River, beyond which begins the built-up area of Lido di Jesolo. Turn immediately to the right and just ahead take the main road of this beach resort which has a bike path on the right. Once you have reached the center of the built-up area, take the road to Jesolo, which, after a large rotary, splits into a tree-lined street on the right that goes to the village of Jesolo, and one on the left that runs along the lagoon. Just before the bridge over the Sile channel take a detour to the right and you will reach the small local road that runs along this channel; turn left and continue for 5 km/3 miles along the lagoon. After a couple of km/about 1.2 miles to the left there is a detour towards Valle Grassabò which takes you to a pontoon bridge that leads to the village of Caposile, where the Sile channel meets the Piave.
From Caposile you could take the road towards S. Donà di Piave where there is a train station on the Venezia-Trieste line.
If you wish instead to complete the bike ride around the lagoon, you need to get on the road that follows along the Sile channel, and which is narrow and heavy with traffic; from there you would join the statale [state highway] which takes one to Marco Polo airport and then Mestre and finally to Venice.
---