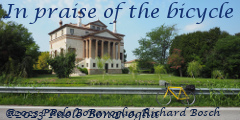 Bicycling in cities
...

Almost all the Western cities (the only true exception being Venice) for years have been reduced to an infernal motorized mob-scene, for half endless piles of scrap metal, the other half chaotic speedways.
Humans are animals that are very adaptable and as such are resigned to adapt themselves to this automotive lifestyle, which they often will call unlivable but against which they do absolutely nothing.
In this situation of the dictatorship of the automobile and motorcycles areas for pedestrians and cyclists are reduced to a minimum. In some cities those areas are close to zero; in other cities, the presence of bike paths and pedestrian routes improve the situation somewhat.
And they are unfortunately ingrained with the idea that the bicycle is just a toy or a means of recreation for the holidays.
These pages provide some information about the use of bicycles as a means of transportation in the cities that I know the best, as a cyclist.