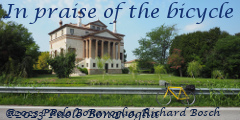 Villa Selvatico at Battaglia Terme (PD)
Photo gallery
Map of the villa and surroundings
Battaglia Terme, province of Padua, altitude 50 m/165 feet above sea level; train stations at Battaglia Terme, at Monselice 6 km/4 miles to the south, and at Montegrotto 4 km/2.5 miles to the north.
---
Built in the early seventeenth century on behalf of B. Selvatico, by an unknown architect, but who must have had in mind the Villa Rotunda of Palladio in Vicenza; similarly, it is set on a small hill providing panoramic views, and it has a square plan with four equal elevations.
It is not open to the public, but can be seen at a distance from the bike path between Battaglia Terme and Monselice.
---
Latest visit: 2011-09-25
---
Web links
References
Bibliography
Panoramic photo: to see the entire photo, double-click on the image.
X