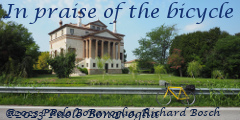 Castello del Catajo at Battaglia Terme (PD)
Photo gallery
Map of the villa and surroundings
Catajo, municipality of Battaglia Terme, province of Padua, altitude 50 m/165 feet above sea level; train stations at Battaglia Terme, at Monselice 6 km/4 miles to the south, and at Montegrotto 4 km/2.5 miles to the north.
---
Although it retains the name of "castle", this impressive building (350 rooms) can be counted among Venetian villas; the old medieval castle was restored and transformed into a residence by the nobleman Pio Enea degli Obizzi, architect Andrea Della Valle around 1570. In 1803 the family of Obizzi became extinct and the villa passed to the Estensi (then Dukes of Modena) and then to the Habsburgs; after the Great War it was given as a war indemnity to the Italian government, which in 1929 sold it to the Della Francesca family.
Behind the villa there is a large park and a game reserve for deer.
The castle is located along the Padua-Monselice bike path; it is from the bike path that you can enjoy the best overall view of the castle.
---
As of 2008, the castle is open to the public on Sundays, Tuesdays and holidays, during the warmer months (April through August) from 3:00 to 7:00 pm, and in the cooler months (March, September, October, November) from 2:30 to 6:00 pm. Admission costs 8 €.
The castle can be rented out for receptions, weddings, conferences ...
---
Latest visit: 2018-04-29
---
Web links
References
Bibliography
Panoramic photo: to see the entire photo, double-click on the image.
X