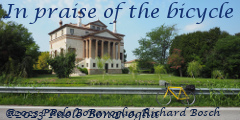 Villa Contarini at Piazzola s.Brenta (PD)
Barchessa di villa Thiene
-
Barchesse of Villa Fini
-
Villa Godi Piovene
-
Villa Zaguri
-
Villa Chiericati

Photo gallery
Map of the villa and surroundings
Piazzola sul Brenta, province of Padua, altitude 30 m/100 feet above sea level; train station at Padua, 15 km/9 miles to the south.
One of the grandest of the Venetian villas, construction was begun in the middle of the 16th century, perhaps from a design by Andrea Palladio, on behalf of the Venetian patricians Francesco and Paolo Contarini; in 1676 the procurator of San Marco, Marco Contarini, enlarged the house by adding two wings, and then in 1680 the huge piazza surrounded by a semicircular colonnade, but which was never completed. With its huge park the villa has the feel of a small Venetian Versailles.
---
Latest visit: 2014-06-08
---
Web links
References
Gianfranco Scarpari

,

Le ville venete

, Newton Compton, Roma, 2007. [Villa Contarini pp 219-223].

Ist.reg. per le ville venete

,

Le ville venete

, Marsilio, Venezia, 1998. [Villa Contarini pp 42-43].

Paul Van der Ree, Gerrit Smienk, Clemens Steenbergen

,

Italian Villas and Gardens

, Prestel, München, 1993. [Villa Contarini p 246].

Valeria Bovè

,

Ville venete

, Arsenale, Venezia, 1999. [Villa Contarini, Camerini, Simes pp 52-55].
Bibliography
Panoramic photo: to see the entire photo, double click on the image.
X