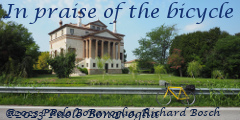 Villa Polcastro, Wollemborg at Loreggia (PD)
Villa Cornaro
-
Villa Marcello
-
Villa Farsetti
-
Barchesse di villa Badoer
-
Villa Cappello detta Imperiale

Photo gallery
Map of the villa and surroundings
Loreggio, province of Padova, 26 m/85 feet above sea level; Via Aurelia; train station at Camposampiero, on the Padova-Castelfranco line, about 2 km/1.2 miles to the southwest. The villa is visible from the outside and beyond the expanse of water that separates it from the road. It can be reached on bicycle by way of a short side-trip from the Treviso-Ostiglia bike route.
---
This villa has its origins during the fifteenth century when the Polcastro family acquired the lands on which, over the following century, a manor house was constructed that, based on land records, remained pretty much unchanged until the nineteenth century, when Giuseppe Jappelli [a 19th century Venetian park architect. RB] oversaw the construction of a large park surrounding the villa that now enhances a building that on its own is rather bland.
The villa now has a rectangular form with an asymmetrical facade, from which it is still easy to identify the original symmetrical facade of seven bays and the subsequent addition of four more bays towards the park. A large barchessa to the north of the villa has been retained and is now used as an antiques market.
In 1870 the villa passed ownership to senator Leone Wollemborg(*) from a family originally from Frankfurt am Main; the Wollemborgs retained ownership for a century(*), and then sold it to the Gomiero family, which are still its owners.
Since May 2017 the villa hosts a restaurant; for visits refer to the official site, link here below.
X
One often finds it in the form "Wollemburg", but the original last name is "Wollemborg".
X
The writer and journalist Leo J. Wollemborg, son of Leone, was born in Loreggia in 1911, emigrated to the US in 1939 in order to escape persecution, and for many years was the Rome correspondent for the Washington Post.
---
Latest visit: 2017-10-14
---
Web links
References
Gianfranco Scarpari

,

Le ville venete

, Newton Compton, Roma, 2007. [Villa Wollemburg p 221].
Bibliography
Panoramic photo: to see the entire photo, double-click on the image.
X