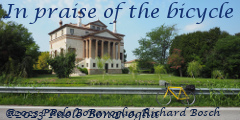 Villa Morosini Vendramin at Fiesso Umbertiano (RO)
Photo gallery
Map of the villa and surroundings
Fiesso Umbertiano, 12 m/40 feet above sea level; train station at Fratta Polesine 10 km/6 miles to the north or at Rovigo.
The Morosini family, one of the twelve Venetian so-called apostolic(*) families, owned extensive lands in the Polesine and in 1704 Francesco Morosini commissioned the architect Andrea Tirali to design and construct this villa in the middle of one of their estates. The property passed on rather quickly to the Vendramin family. Between the 19th and 20th centuries it fell into disrepair and was used as a granary; in the meantime the village of Fiesso had developed around it, which, after the unification of the Kingdom of Italy in 1866 and a visit by the crown prince, Umberto of Savoy, assumed the name Umbertiano.
In 1923 it was recognized as a structure of historical and artistic significance and was acquired by the comune [municipality] of Fiesso to have it restored and to make it its town hall, an effort that took decades and was completed only in 1966. Inside there are restored frescoes by Mattia Bartoloni and Antonio Vicentini.
The villa is interesting for being one of the few Venetian villas that have central symmetry, such as Villa la Rotonda or Villa Capodilista. The four facades are virtually identical, but the symmetry is broken by the presence of a stairway of two symmetrical runs in front of the main facade. At the top of the villa there is an octagonal turret.
Another peculiarity is that this is the southernmost of all Venetian villas, a few meters further south than another Villa Morosini, the one at Polesella.
It is possible to visit the villa during the business hours of the comune.
These twelve families have been called
apostolic
because, through their patronage, they gave birth to the Republic of Venice by electing the first Doge, Paoluccio Anafesto, in 697 AD. The twelve families were: Badoer, Barozzi, Contarini, Dandolo, Falier, Gradenigo, Memmo, Michiel, Morosini, Polani, Sanudo and Tiepolo. Often added to this list are four so-called
evangelist
families: Bembo, Bragadin, Corner e Giustinian.
X
---
Latest visit: 2014-04-25
---
Web links
References
Bibliography
Panoramic photo: to see the entire photo, double click on the image.
X