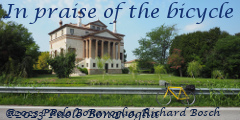 Villa Morosini at Polesella (RO)
Gallery
Polesella (Rovigo) 6 m/20 feet above sea level. Train station at Polesella on the Venezia-Bologna line about 2 km/1.2 miles to the west.   The villa is situated along the left bank [north side] of the Po River just outside [east] of the inhabited part of the village (see the Adige-Po bike route).  
---
This villa is the southernmost of all of the large Venetian villas, and was constructed after 1555 on behalf of Pietro Morosini who acquired the property; the design of the project and its implementation are attributed to Vincenzo Scamozzi. During the second half of the seventeenth century Francesco Morosini (1619-1694) lived there, one of the most famous of the Venetian generals, known as the Peloponnesian, for having conquered the Peloponnese peninsula by capturing it from the Turks. In later years this Morosini was also elected Doge (1688-1694).  
The principal facade of the villa, characterized by a large stairway and by a large triangular pediment at its summit (the higher lunette appears to have been added later), faces directly towards the Po, and in front of the stairway there used to be a landing on the river. The successive increases in height of the levee, to protect the lowlands from the flooding of the Po, have ended up distorting the perspective of the villa so that today it appears sunken and is half-hidden from the embankment, a situation similar to what happened at Villa Nani Mocenigo at Canda.  
Around the villa there was a square, walled courtyard with four towers at the corners; today only the rear remains, the front walls having been demolished to make room for the embankment.  
The villa which had fallen into a seriously degraded condition was restored in 2005 by the Istituto per le Ville Venete [Institute for Venetian Villas]. Since then the villa has been used to host cultural events, exhibits and functions. At the time of my visit the villa appeared closed and not visitable. However one can catch a glimpse of the exhibit of contemporary art in the garden. A sign at the side entrance provides contact information about hosting events at the villa.
---
Last visit: 2012-04-25
---
Reference and Links
Villa Morosini a Polesella; sito ufficiale
Ist.reg. per le ville venete

- Le ville venete, itinerari tra Veneto e Friuli - Marsilio Venezia 1998
F. Monicelli - s. Montagner

, Guida alle ville venete, Demetra Verona, 2000