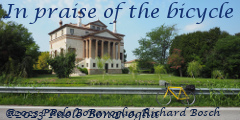 Villa Grimani Molin at Fratta Polesine
Gallery
Fratta Polesine, 12 m/40 feet above sea level; train station at Fratta Polesine 1 km/.6 mile to the north. The villa is located at the edge of the village, a few meters from the Palladio-designed Villa Badoer.
---
The villa was constructed around 1570, the same period of time as the nearby Villa Badoer of Palladio. The name of the architect remains unknown, but it obviously is inspired by Palladian models such as the adjacent Villa Badoer, but also Villa la Malcontenta. The frescoes in the interior traditionally are attributed to the same painter as at Villa Badoer, Giallo Fiorentino. But, according to other sources, they should be attributed instead to an unknown Grimani, but of the same school as Fiorentino.
The main facade of the villa faces north, which is rather unusual, and seems to look towards Villa Badoer. At the center of the facade there is a large loggia [porch] in the style of a Greek temple with six Doric columns, which is also considered unusual, since during this period it was customary to use Ionic columns. One gets up to the loggia by two broad stairways to the side.
The villa changed ownership many times, from the Molin family, to the Correr, to the Emo, to the Bragadin and more recently to the Avezzù Pignatelli family which had it restored.
On the 11th of November 1818 the villa was the location for a secret meeting of the (*)Carbonari of Fratta; the Austrian police, somehow informed, raided the meeting and arrested all of the participants who were sentenced to long prison sentences for high treason; for this reason, the villa is also known as the Villa of the Carbonari. The episode is recounted on a stone plaque near the entrance.
---
Last visit: 2012-04-09
---
Reference and links
Villa Molin nel sito del comune di Fratta Polesine.

Valeria Bové

, Ville Venete, Editrice Arsenale Venezia 1999

Ist.reg. per le ville venete

- Le ville venete, itinerari tra Veneto e Friuli - Marsilio Venezia 1998

F. Monicelli - s. Montagner

, Guida alle ville venete, Demetra Verona, 2000

The

Carbonari

[charcoal burners] were secret revolutionary societies founded in the early nineteenth century to promote the independence and unification of Italy. RB

X