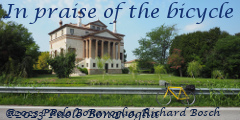 Villa Malvolti at Carpenedo FS (VE)
Villa Algarotti
-
Villa Erizzo-VEZ
-
Villa Morosini-Gatterburg
-
Villa Duodo-Zoppolato
-
Villa Simion

Photo gallery
Map of the villa and surroundings
Carpenedo, a district of the municipality of Venice, 5 m/16 feet above sea level; train station at Venezia Carpenedo 500 m/about a 1/3 mile to the east. The Villa is located along Via Trezzo 200 meters/650 feet east of il Terraglio, in front of the (*)Matter Barracks.
---
The villa was built probably in the sixteenth century by the Priuli family after which the property passed to the German Kerkele family, next to the Counts Combi, then to the Missana family and finally to the Malvolti family from Conegliano, to which it still belongs. Therefore, the villa is also known as Villa Combi-Malvolti.
The central block of the villa consists of a ground floor, a piano nobile [main floor] and a mezzanine [attic] level surmounted by a curved pediment. The two wings on each side connect the central part of the villa to two arcaded (*)barchesse. The rear elevation is similar to the main facade.
The villa has a front courtyard (noteworthy for its huge cedar of Lebanon) and a park facing the countryside; along the street there is also a small chapel/oratory.
In recent years the villa has been a frequent host to cultural events such as concerts and the like.
"In the Venetian dialect, a barchessa is an all-purpose farm building, housing plows and other farm equipment, storing grain, and stabling animals." from Palladian Days, Finding a New Life in a Venetian Country House by Sally Gable. RB
X
The army barracks of the Lagunari Serenissima regiment. RB
X
---
Latest visit: 2012-03-17
---
Web links
References
Bibliography
Panoramic photo: to see the entire photo, double click on the image.
X