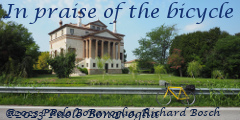 Villa Algarotti at Carpenedo Terraglio (VE)
Villa Malvolti
-
Villa Erizzo-VEZ
-
Villa Morosini-Gatterburg
-
Villa Duodo-Zoppolato
-
Villa Simion

Photo gallery
Map of the villa and surroundings
Carpenedo, a district of the city of Venice, 5 m/16 feet above sea level; train station at Venezia Carpenedo, about 1 km/.6 mile to the southeast. The villa faces directly on to "the Terraglio" [Via Terraglio].
---
This villa was constructed during the first half of the eighteenth century for the Venetian Algarotti family, originally from Verona, who, at the end of the eighteenth century, were awarded the title of "count" by King Frederick II [Frederick the Great] of Prussia. The identity of the architect is unknown.
The original villa was organized into two levels, a ground level and a mezzanine, and is L-shaped, with one facade facing the Terraglio and the other facing the garden. The two facades are virtually identical with the customary triangular pediment at the middle and six pilasters surmounted by decorative urns above the cornice line; the facade facing the garden has a bas-relief below the pediment. In the surrounding garden there is also a chapel in a style similar to the villa.
The villa has hosted numerous famous personages: at the end of the eighteenth century the Count of Provence and the Count of Artois, brothers of Louis XVI, fleeing France after the Revolution; then during the nineteenth century André Massena, one of Napoleon's generals; Gioachino Rossini; Edmondo De Amicis; and, in 1918, Ernest Hemingway.
Since 1969 the villa has been home to the Luigi Caburlotto nursery and elementary school. Unfortunately, today the villa is overshadowed by a raised highway which partially blocks a view of the villa.
---
Latest visit: 2016-02-20
---
Web links
References
Bibliography
Panoramic photo: to see the entire photo, double click on the image.
X