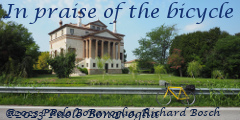 Villa Giovanelli at Noventa padovana (PD)
Villa Vendramin-Cappello
-
Villa Sagredo
-
Villa Foscarini-Rossi
-
Villa Cappello
-
Villa Pisani, la Nazionale

Photo gallery
Map of the villa and surroundings
Noventa Padovana (PD) 10 m/33 feet above sea level; train station at Ponte di Brenta 2 km/1.2 miles to the north, or Padua 5 km/3 miles to the west.
---
The villa is located along the bike path of the Piovego Canal, which is part of the Riviera del Brenta bike route, yet it is still within the urban area of Padova.
The villa was built on commission from the patriarch of Venice, Giovanni Maria Giovanelli, at the end of the seventeenth century, by an unknown architect although some sources suggest the name of Antonio Gaspari. The front facade is characterized by the enormous semi-octagonal pronaos [portico] of Corinthian columns, preceded by a grand staircase and topped by a pediment with the coat of arms of the family: a pronaos design which may be unique in the history of architecture. The villa has the shape of a rectangular solid on three floors, a ground floor which is the service level, and two floors arranged according to the typical layout of a Venetian palazzo: a large atrium with rooms distributed on both sides.
The staircase was designed by Giorgio Massari and was added in 1738 along with six statues that represent the five senses and reason.
The villa was badly damaged in the first half of the nineteenth century when it was used as barracks by the Austrian troops, but already by the mid nineteenth century it had been restored with great care.
---
Latest visit: 2010-09-19
---
Web links
References
Bibliography
Panoramic photo: to see the entire photo, double click on the image.
X