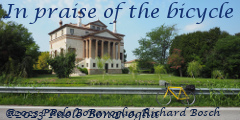 Paris-London bike route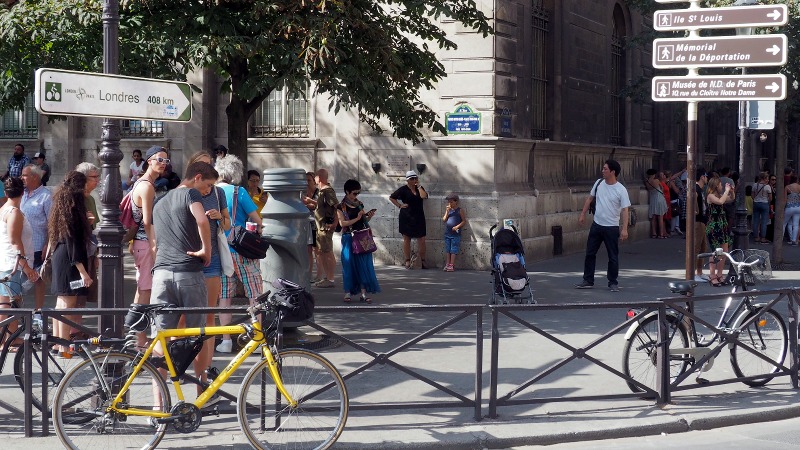 In front of Notre Dame, the first marker of the route; the distance of 408 km/254 miles refers to a different route from the one I describe here, which is a bit longer, 426 km/265 miles.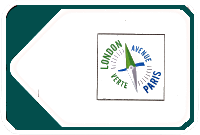 Conceived during 2012 on the occasion of the London Summer Olympics, this bike route connects two great capitals of western Europe. The project is French, as is the slogan "Avenue Verte" [green avenue] and was limited initially to the bike route that follows the rail bed of the former railway to Dieppe.
The trademark signage of the route is also limited to the French section between Paris and Dieppe, with signs that are similar to the one I'm showing to the side. Along the English section, between Newhaven and London there is no special acknowledgment of this route other than generic signage for the British national bike system.
The route is only partially on dedicated bike paths, although the rest is on local roads with low traffic. In the French part there are newly-created sections of dedicated bike, the latest [May 2015] runs between Beauvais and Gournay-en-Braye and other sections are being planned or under construction.
In the English section, the bike route also takes advantage of the rail beds of decommissioned railroads, such as the paved Cuckoo Trail and the natural surface Forest Way and Worth Way, and there are sections along secondary roads with climbs and descents from very steep grades. Signage follows bike routes N2, N21 and N20. As I mentioned there is no reference to the Paris-London route; here again the British demonstrate their Euro-skepticism.
---
Following are the legs of my trip during July 2015, with a link to each detail page with photos and altimetry:
The route is that which I followed in July 2015, and resembles the official route but with several variants, in part brought about by a desire to reduce travel time, in part suggested by the GPS navigator set to cyclist mode.
Obviously there are other possibilities on how to subdivide the segments; in particular, dividing the English trip into three segments proved unfortunate; the too short section [12 miles] between Newhaven and Berwick is the result of taking the mid-day ferry which left only a few hours in the afternoon to continue; the section between Berwick and Crawley [47 miles] proved to be the most demanding and should have been subdivided: here in fact were the steepest climbs and descents, the longest unpaved stretches and in my case the route was made more difficult by the increasingly heavy rain, an event that proved to be not uncommon in "Green England".
---
Link utili