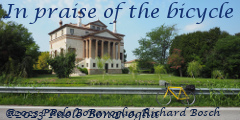 The Paduan Lowlands
Gallery
A route through the lowlands of the region of Padua, in part using bike lanes, in part along local roads; none of it with difficult elevation changes except for the climb up to the Rocca [fortress] of Monselice.
Point of departure is the train station at Pontelongo on the Venezia-Adria line, operated by Sistemi Territoriali (Ferrovie Venete) [Venetian railways]; trains run more or less every hour and almost all can carry bicycles.
Upon leaving the station turn back for a few hundred meters/yards and you will arrive at the built-up area of Pontelongo and go as far as the municipal offices that are housed in Villa Foscarini-Erizzo along the river Bacchiglione.
Cross the new bridge over the Bacchiglione and take the street to the right along the river for a few hundred meters/yards, where you then turn left to go in the direction of Candiana.
The road first takes you to Candiana and then to Pontecasale, which once was its own town, but now is a district of Candiana, and where we find one of the most attractive Venetian villas: Villa Garzoni designed by Jacopo Sansovino.
After Pontecasale, continue to Arre, cross the Este-Mare highway [SR104] and you will reach Bagnoli di Sopra; its main piazza is dominated by the facade of the enormous Villa Widmann, which was rebuilt by Baldassarre Longhena; the facade is in bad condition, blackened and degraded, while the best known part is the rear which looks out on a large garden that is visitable, but only on certain days.
After Bagnoli di Sopra continue to Monselice whose Rocca [fortress] with the Santuario delle Sette Chiese [Sanctuary of the Seven Churches] and Villa Duodo can be seen in the distance. Once you arrive at Monselice it is worth the effort to climb up through the Santuario: the road is anything but ideal for the cyclist, being paved with very irregular cobblestones, a terrain better adapted for a mountain bike than a road bike.
The route ends at the train station of Monselice; or instead you can continue to Padova along the Battaglia Canal, or alternatively to Este and Montagnana.
---
Last passage: 2012-06-10