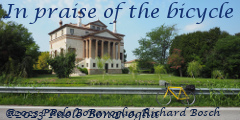 The Lido and Pellestrina
I Murazzi

Gallery
One possible route on the islands of the Venice lagoon involves the full-length crossing of the islands of the Lido and Pellestrina.
From S. M. Elisabetta take the Gran Viale east to its end and from here turn right onto the lungomare [shoreline road] as in the Murazzi route; on the right will be the Grand Hotel des Bains, then, after about I km/.6 mile the piazzale of the Casino with the palazzo del Cinema [movie theater] and then the Hotel Excelsior; after another km the street veers to the right taking you away from the sea; here there are two possibilities:
take the small downhill street (see the Murazzi route); or
continue on the street to the next rotary and from here turn left onto the avenue which runs the full length of the Lido as far as the seaside resort of Alberoni.
From Alberoni you continue further for 1 km/.6 mile to the imbarcadero [boat dock] in front of the Faro Rocchetta [Rochetta lighthouse]; here the island of the Lido ends and you can continue by taking the ferry to Pellestrina.
Once you are on Pellestrina it is impossible to lose your way, there is in fact only one road that follows the full length along the murazzo [seawall] as far as the village of Pellestrina, and shortly after at the piazzale in front of the cemetery is the imbarcadero [boat dock] for the motonave [motor boat] for Chioggia. On Pellestrina, the distance from the northern imbarcadero to the southern imbarcadero is approximately 8 km/5 miles.
The motonave carries bikes and it is therefore possible to continue to Chioggia. (see the page on Pellestrina)