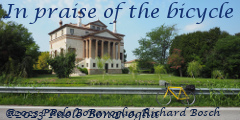 Pian d'Alma and Tirli
...

Galleria fotografica
The point of departure could be the train station at Follonica; from here follow the signs for Punta Ala; the road ("via delle Collacchie"), with rather heavy traffic, runs first through fields and then later through a pine forest. After about 5 km there is a short climb of 1 km and then a long descent to Pian d'Alma; here, on the right, is the extremely busy road to Punta Ala; conversely, on the left, is a quiet small road running along fields of sunflowers for about 4 km. Then turn right and start a very demanding tear uphill for about 1 km; the climb continues for another 3 km, but a little less severe to the village of Tirli from which you have a sweeping view of the plain of Grosseto.
To the right a road in good condition, probably maintained by the military, continues the climb toward poggio [hill] Ballone; the last section is a road reserved for the military, but you can still enjoy extensive views of Castiglione della Pescaia, Punta Ala and the island of Elba. Return to Tirli and from here you could retrace the route of the first leg, or take the road down to Grosseto (about 25 km) and its train station.
---
Last visited 2001-07-17
---
Cartografia

Carta TCI Toscana 1:200000.