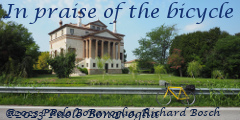 Villa Caldogno at Caldogno (VI)
Photo gallery
Map of the villa and surroundings
Caldogno (Vicenza) 55 m/180 feet above sea level; train station at Dueville on the Vicenza-Schio line, about 7 km/4.5 miles to the east, or at Vicenza on the Milano-Venezia line, about 8 km/5 miles to the south. On bicycle the villa can be easily reached from Vicenza.
Caldogno, a village and a family which have a name in common, and for the most part share the same history. Over time the Caldogno family has owned most of the land in the territory, since the time of Charlemagne, and would acquire the county of Caldogno; one recalls in particular a certain Calderico Caldogno, a Palatine count and adviser to Frederick Barbarossa.
This villa was constructed, starting in 1542, on behalf of Losco Caldogno who entrusted the design to the young, but already established, Andrea Palladio; the inscription on the facade carries the date of 1570, suggesting that may have been the year the villa was completed. The attribution to Palladio is based mostly on similarities to Villa Pisani at Bagnolo and Villa Saraceno at Agugliaro; the villa, however, does not appear in Palladio's Second Book of Architecture, thereby definitive proof is lacking and neither the designer nor the date can be verified.
The south facade is the most significant with three rusticated arches that recall those of Villa Pisani at Bagnolo di Lonigo. The stairway is shaped into a pyramid. The rear facade was redesigned in the 17th century with the addition of two towers and a terrace; today it appears in worse condition than the main facade.
Currently the villa is owned by the Comune [municipality] of Caldogno and houses the public library.
---
Latest visit: 2013-04-14
---
Web links
References
Ist.reg. per le ville venete

,

Le ville venete

, Marsilio, Venezia, 1998. [Villa Caldogno p 134].

Ottavio Bertotti Scamozzi

,

Le fabbriche e i disegni di Andrea Palladio, tomo II

, Rossi, Vicenza, 1796. [Villa Caldogno pp 67-70]. → eBook
Bibliography
Panoramic photo: to see the entire photo, double click on the image.
X