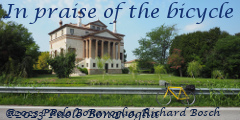 From Rome to the ruins of Galeria Antica
Roma-Galeria Antica e ritorno ~ 40km

---
Last visit: July 2005

---
Links and references
Ferdinand Gregorovius

,

Passeggiate Romane

, Rome 1980 - Edizioni dell'obelisco (in Italian)
Careias is the name, found in ancient Roman documents, of a waystation on the ancient Via Claudia near the present Galeria, and very likely the word "Galeria" comes from "Careias",  probably a name of Etruscan origin.
X
Ninfa is the name of another ancient city similar to Galeria, abandoned and covered with green, south of Rome, near Norma.
X
The Pines of Rome made famous by Ottorino Respighi.
X