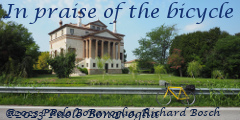 Bicycling in Mestre
Bicycling in
Venice
-
the Lido
-
from Mestre to Venice

Galleria fotografica
Mestre is a bit the flip side of the coin from Venice, the city that is the exception, the city of water, the city of art, the city without cars and motorbikes. Mestre, which has grown during the last decades thanks to the Venetians who have relocated there, on the other hand is a normal city, a city of earth (and cement and asphalt), a city without art, a city plagued by cars and motorbikes.
In recent years Mestre has become one of the more bicycle-friendly of Italian cities; so many bicycle lanes were created that today (2010) Mestre can hold its own against other middle-European cities. Thanks to this policy the number of urban cyclists has increased noticeably, even though they always remain in the minority compared to the endless infestation of motorized traffic.
Within Mestre the flower in the buttonhole [showpiece] is Via Dante, a situation closer to unique rather than unusual, a street reserved only for bicycles; from Piazzale Leonardo da Vinci it takes one through a bike underpass that goes below the train station and then comes out at Marghera. Bike paths are being created along Via Castellana, Via Torino, and at Viale San Marco which concludes at the spectacular San Giuliano overpass, which carries one to the new park of San Giuliano set right on the lagoon with a view overlooking Venice.
In this unusually positive outlook [for Italy] there is still a giant omission, the connection with Venice which continues to be only partially cyclable.
Another big flaw is the bike path along Viale Fratelli Bandiera, abandoned to neglect and poorly signed. At the end of the Viale, once past the petrochemical works, you arrive at Malcontenta where there is Villa Foscari, and shortly after is the beginning of the bicycle route of the Brenta.
---
References and links