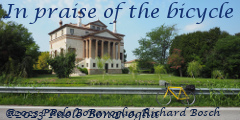 The Bandite di Scarlino
...

Galleria fotografica
Between Follonica and Grosseto, the "Via Aurelia" (*) moves away from the coast, which along this stretch is very steep and rocky; along the Mar Tirreno [Tyrrhenian Sea] we find in its place Via delle Collacchie (provincial road 158) and the zone of the Bandite di Scarlino [the Scarlino nature reserve](*), which has as its focus the small, isolated beach of Cala Violina, which boasts seawater that is amongst the clearest of Italy; this at least according to the rankings that are published every summer; it is certainly worthy of a visit by bicycle.
The Bandite di Scarlino can be visited by bicycle (preferably mountain bike); coming from Follonica, heading south in the direction of Punta Ala, take the lungomare [road along the sea] (Via delle Collacchie); after crossing through the pine forest, you arrive at the village of Portiglione (town of Scarlino), where the provincial road also leaves the seacoast and climbs into the hills; at this point a road to the right leads to a marina and continues to two seafront restaurants; once you have arrived at the second of these, the paved section of road ends; the cyclist therefore can continue on an unpaved road that is closed to motor traffic; the first kilometers offer an easy ride with gentle grades through the pine forest along the coast all the way to Cala Violina, which presents a truly evocative spectacle.
Here you can choose whether to return by way of the Via delle Collacchie, by taking an unpaved crossroad open to vehicular traffic, or continue along the coast; the term "road" is rather a bit optimistic for this final section: the surface is very uneven and more like the bed of a stream than a path; the road climbs with a rather steep grade; I don´t know if mountain bike champions are capable of riding this section on bike without losing their balance; I for one found it necessary to do almost the entire climb on foot. When you reach the highest point (about 80 m or 260 ft above sea level) the road improves a bit, but gradually becomes more and more sandy and the biker needs once again to set his feet on the ground and walk!
Eventually the route ends on a small paved road that comes off Via delle Collacchie and that leads to the campground at Torre Civinini. Here you can turn left, reach the provincial road and turn left again to go back to Follonica, or turn right, go past the camping area and end up on the road to Punta Ala which is narrow, very busy in the summer and therefore barely cyclable; the only alternative is a hiking path along the bottom, that is very irregular and that runs through the pine forest just a few meters from the beach almost the entire way to Punta Ala.
---
Last visited 2003-07-17 (July 17)
---
Cartografia

Carta TCI Toscana 1:200000.
The nature reserve of Scarlino encompass about 15,000 acres along the coast of Tuscany. RB
X
The Via Aurelia is an ancient Roman road that followed the coastline from Rome to Pisa, except for the section referred to below. Modern highway SS1 follows the same route, and Italians still refer to it as "the Aurelia". RB
X