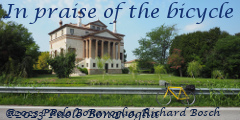 Villa Venier at Mira (Venezia)
Gallery
Mira, Via Nazionale (state road SS 12, Padana Superiore), altitude 6 m/20 feet above sea level; train station at Mira, about 4 km/2.5 miles to the north, or at Mira Buse, on the Venezia-Adria line. The villa is located along the Riviera del Brenta and on the Brenta bike route.
---
The villa was constructed at the end of 16th century on behalf of the noble Venetian family Venier. The villa consisted of a central section of square form, two barchesse [farm support buildings] and an oratory. The central section features a three-part window and an attic both with cast iron balconies.
During the 18th century the villa passed ownership to the Contarini family, then to the Zeno family and then to the Manin family. During the 19th century the architect Carboni enlarged the central section with additional rooms to the sides and connected them to the barchesse with two porticati [small porches].
In 1953 the villa passed to the Sisters of the Beata Imelda [Blessed Imelda] who used it for a nursery school. In 1995 the villa was acquired by the Istituto Regionale Ville Venete [Regional Institute of Venetian Villas] which has been using the foresteria [guest house] as its headquarters. The villa is being restored and will be used for conferences and events.
The two barchesse have ceiling vaults frescoed with scenes of mythological themes.
---
Latest visit: 2013-03-03
---