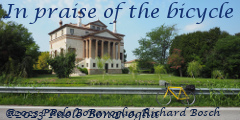 Villa Valmarana ai Nani at Vicenza (VI)
Photo gallery
Map of the villa and surroundings
Vicenza, altitude 70 m/230 feet above sea level; train station at Vicenza about 2 km/1.2 mile to the northwest.
The villa is located on a small hill that can be reached from the Vicenza-Noventa Vicentina bike route by way of a couple of steep uphill streets (first Via Giambattista Tiepolo, then Via dei Nani). The entrance is off a small piazzale to the south of the villa; to get back on the bike path one could continue to follow Via Valmarana, which goes downhill, is unpaved and bumpy, and has steps in some parts. The villa remains the property of the Valmarana family; both the garden and the villa can be visited for an admission fee.
---
The first part of the villa was constructed after 1660 on behalf of the Vicentine Giovanni Maria Bertolo, by an unknown architect, possibly from the school of Baldassarre Longhena. During the 18th century the property passed to the Valmarana family who expanded the villa complex, adding stables, and had all the villa interior decorated with frescoes by Giambattista Tiepolo and his son Giandomenico.
The nickname of the villa "ai Nani" derives from a series of statues of dwarfs that now stand watch on the garden wall, the work of sculptor Francesco Uliaco, perhaps inspired by sketches by Tiepolo.
The principal attraction of the villa remains the frescoes by the two Tiepolos; the frescoes were viewed and admired, albeit with some reservations, by Goethe on 24 September 1786 during his trip to Italy. (*)His opinion about Tiepolo is posted on a kiosk at the piazzale in front of the villa.
"Today I viewed the Villa Valmarana that Tiepolo decorated, where his virtues and flaws had a free rein. He did not achieve a sublime style, like the one found in Nature, but there are still wonderful things in it: on the whole, as a decorator he is joyful and masterly."
Translated from the German by Kerstin Schulz, Portland, Oregon
X
---
Latest visit: 2012-12-29
---
Web links
References
Bibliography
Panoramic photo: to see the entire photo, double-click on the image.
X